KUCHING: Trienekens (Sarawak) Sdn Bhd and Padawan Municipal Council (MPP) recently concluded a solid waste segregation and recycling awareness programme for the third year with SJK (C) Chung Hua Sejijak with a prize presentation session for its students.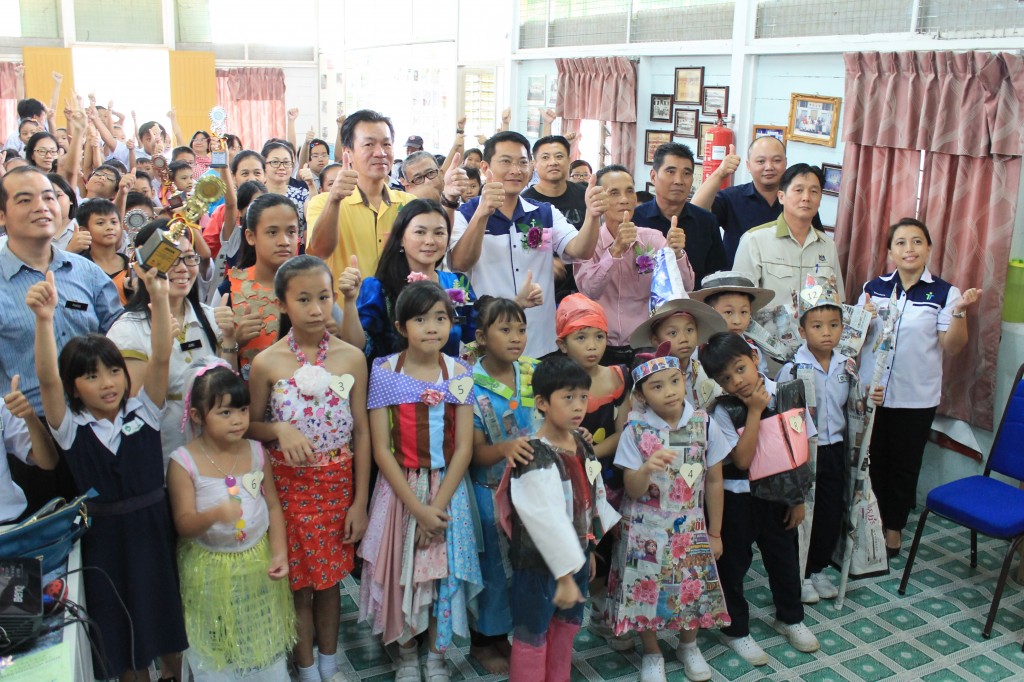 SJK (C) Chung Hua Sejijak is the first Chinese vernacular school under the Council's jurisdiction to adopt Trienekens' recycling programme. It was selected due its on-going commitment towards becoming a green school. The project engages both students and staff to practice segregating their school waste from the point-of-generation, starting from their class rooms. The programme is a collaboration between the government agency – MPP; private sector – Trienekens and School – SJK Chung Hua Sejijak.
According to Trienekens' Senior Manager for Logistics & Services, Sarius Lee said that the programme was introduced to the school in 2013 and SJK (C) Chung Hua Sejijak is one of the five Kuching schools to join the programme which was designed to educate pupils about sustainability and environmental stewardship through the 3R (Reduce, Reuse and Recycle) concept and best practices. This year the school has successfully separated and recycled about 720kg of wastes.
Lee congratulated the teachers, students and project's joint taskforce committee for their commitment throughout the year-long implementation process, adding that its success was due to the basic understanding that recycling is not driven by money but due to increased awareness in preserving natural resources and importance of maintaining environmental sustainability as well as cleanliness through education.
"As the city's waste management service provider, most of the problems we encounter are also due to ignorance and indifferent attitude towards cleanliness and proper waste disposal," said Lee. "Therefore, we want to play a part in educating the future generation about recycling, waste management and environmental impacts. Over time, we hope that recycling can become a part of our lifestyle towards sustainable living," added Sarius.
Headmistress Jong Siaw Hui also concurred that the programme was beneficial for her students because it provided them with the opportunity to learn and experience segregating waste first hand from within their classrooms. She thanked MPP and Trienekens for their collaboration and support throughout the implementation of the programme.
In addition to the waste separation practices and scheduled collection of recyclables, Trienekens also organised additional environment-themed educational activities such as awareness talks, Amazing Green Race game, inter-class most collected recyclables contest, colouring, poster design and eco-fashion competitions as well as other green initiatives for the school.
During the event, Lee together with MPP Councillor Wilfred Tap presented prizes to the contest winners. The inter-class most collected recyclables competition saw the students of Year Three of Level 1 Category and Year Four of Level 2 Category emerged as green champions with the highest collection of 96.55kg and 154kg of recyclables respectively. Winners of the other competitions also took home some exciting prizes.
Present at the event were MPP's Standing Committee Chairman for Public Health, Cr. Ahkim Sarok; MPP Divisional Head for Public Health, Donald Jelly, PPKP Officer Fam Sui Seng, Chairman for the School Board, Chai Shong Kiong; Trienekens' CSR Department Manager, Janet J. Balong and other members of the School Board.