Kuching – SK Garland recently concluded its recycling programme with great success as it enters into the second year of running this year. Aside from successfully collecting and separating about 1,570kg of recyclables, the school also carried out a series of educational activities as part of a year-long environmental programme organised by Padawan Municipal Council (MPP) and Trienekens (Sarawak) Sdn. Bhd.. The solid waste segregation and recycling education programme is targeted for schools under the Council's jurisdiction.
Speaking at its closing and prize presentation ceremony MPP's Deputy Chairman Dato' Ahmad Dato' Sri Ibrahim said that MPP is aware that the solid waste and environmental management is nothing new, but it is the main agenda for MPP to raise public awareness on the matter and a responsibility of members of the community to look after the environment together.
"The practice of recycling and maintaining cleanliness of our living area should start from our own neighbourhood, and we must educate and nurture our children to do the same at home and in school," said Dato' Ahmad. "Recycling should be driven by the desire to protect our environment and not solely for profit only."
Trienekens' Senior Manager for Corporate Affairs, Katherine Kong commended the students and teachers of SK Garland for their strong initiatives and commitment in carrying out the programme with much success since beginning of the year.
"The school was actively involved in and won several environmental competitions this year including Trienekens' 20th Anniversary School Greenovation Programme in August," said Kong. "We hope that the students have gained invaluable knowledge and experiences on the importance of proper management of wastes and environmental protection. We strongly encourage them to share what they have learned in school and practice recycling at home as well as in their neighbourhood," added Kong.
In addition to the waste separation practices and scheduled collection of recyclables, Trienekens also organised additional environment-themed educational activities such as awareness talk, Amazing Green Race game, inter-class most collected recyclables contest, colouring, poster design and eco-fashion competitions as well as other green initiatives for the school. The school is also an active member of the PALS Club which is an environmental club for schools established by the Natural Resources and Environment Board (NREB).
At the event, Deputy Chairman Dato' Ahmad and Kong presented some prizes and certificates to the competition winners while witnessed by SK Garland's Headmaster, Elvan Ong Kim Lai.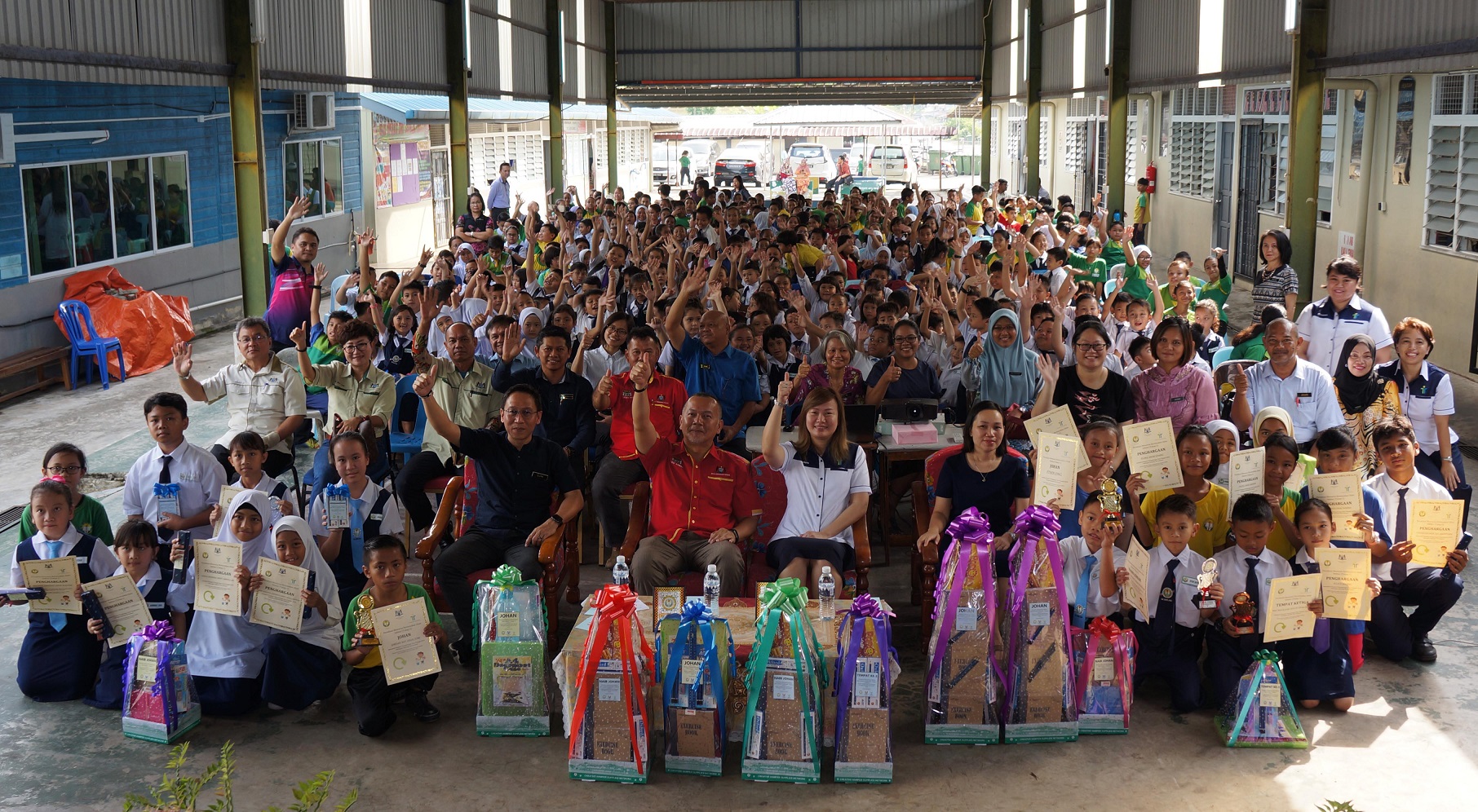 (seated, from left) Headmaster Elvan Ong, MPP's Deputy Chairman Dato Ahmad, Trienekens' Senior Manager, Corporate Affairs, Katherine Kong and Teacher Monica Luran taking a group photo with students and teachers of SK Garland at the end of the prize presentation ceremony.