KUCHING: SK Matang Jaya's (SKMJ) recycling programme took another significant step forward recently with the organising of its annual Recycling Awareness Day event jointly organised by Trienekens (Sarawak) Sdn. Bhd. and Padawan Municipal Council (MPP) with the great support from its students and teachers. The event was part of a long-term solid waste segregation education programme introduced in the school by the two parties four years ago.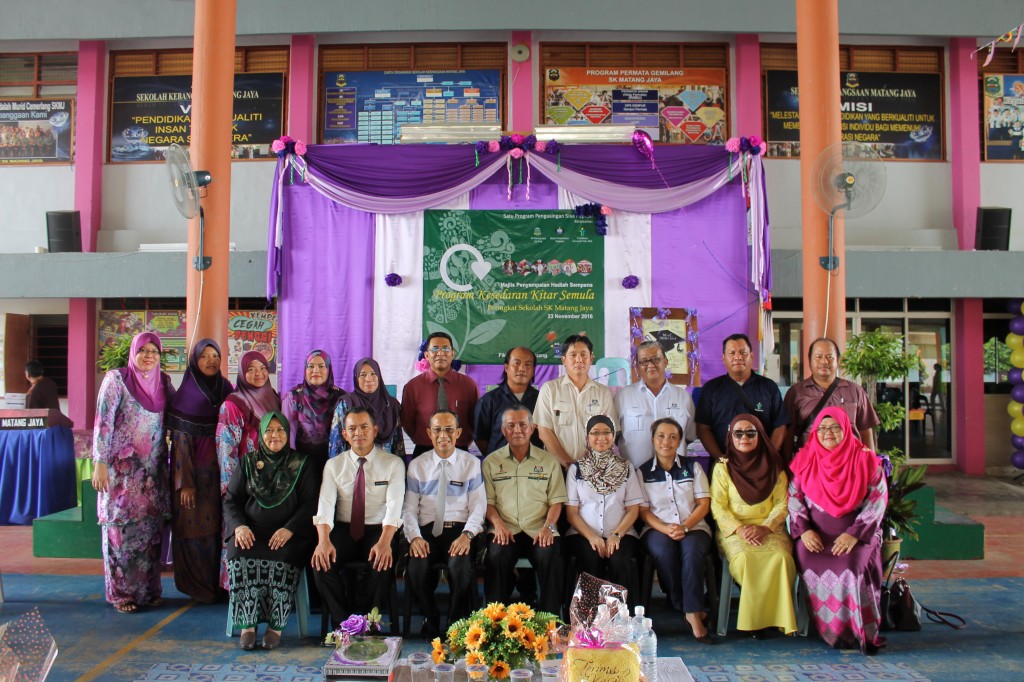 MPP Councillor Rabian bin Haji Kipli who was present to at the ceremony highlighted that the Council started the programme as an effort to educate the school students on environmental sustainability and eradicate indiscriminate dumpings through education on proper way of disposing of solid waste, especially in the Matang area.
MPP and Trienekens started the project in 2012 with the aim to introduce the 3R (Reduce, Reuse, and Recycling) concept among the school children and inculcate the habit and practice of separating solid waste at source from inside the classroom.
With guidance from MPP, the school also successfully carried out a composting activity last year, as an extension from the solid waste segregation and recycling programme. Green waste and food waste from the school canteen were turned into organic compost which is subsequently recycled as fertilizer for the school's plants.
As one of the project partner, Trienekens' Divison Manager for Environment R&D, Dayang Sherrynazra also spoke, adding that the programme saw an increase in the collection of close to 4300kg of recyclables this year. The increase is about 43% higher than last year, indicating a positive shift in awareness among the students, teachers and even parents.
"As part of our CSR initiatives, we strive to create platforms for the younger generation to learn about proper management of waste," said Dayang. "A fixed collection schedule set by the school, alongside other environmental education activities, allowed the recycling programme to develop and become an integral part of the school's system. So far, we have received very encouraging feedbacks from teachers about the positive change in behaviours of the students and even parents," she added.
Dayang congratulated the teachers, students and project's taskforce committee for their commitment throughout the year-long implementation process, adding that its success was due to the basic understanding that recycling is not driven by money but due to increased awareness in preserving the natural resources and importance of maintaining environmental sustainability as well as cleanliness through education.
In addition to the waste separation practices and scheduled collection of recyclables, Trienekens also organised additional environment-themed educational activities at the school such as awareness talks, Amazing Green Race game, inter-class most collected recyclables contest, colouring, poster design and eco-fashion competitions as well as other green initiatives for the school.
Present at the ceremony as well were the School's Headmaster, Sharkawi bin Annuar, Senior Assistant, Naimah bt Hj Matarang, Trienekens CSR Manager, Janet Balong and MPP PPKP Officer, Fam Sui Seng and MPP PKA Officer, Muhd. Fadzel.