KUCHING: SK Matang Jaya's recycling programme took another significant step forward recently with the organising of its annual Recycling Awareness Day event jointly organised by Trienekens (Sarawak) Sdn. Bhd. and Padawan Municipal Council (MPP) with the great support from its students and teachers. The event was part of a long-term solid waste segregation education programme introduced in the school by the two parties four years ago.
MPP Deputy Chairman Cr. Dr. Zaeidi Hj. Suhaili who was present to officiate the ceremony highlighted that the Council started the programme as an effort to educate the school students on environmental sustainability and eradicate indiscriminate dumpings through education on proper way of disposing of solid waste, especially in the Matang area. "While the problem still exist, the volume of waste dumped indiscriminately in this area has lessened. As a community, we have to continue working together to improve the situation and one of the ways is to start managing and recycling our wastes properly."
MPP and Trienekens started the project with the aim to introduce the 5R (Reduce, Reuse, Recycle, Rethink and Repair) concept among the school children and inculcate the habit and practice of separating solid waste at source from inside the classroom. Each class was required to prepare two separate boxes for the disposal of used paper and plastics in addition to the existing one for non-recyclable waste. The programme was further enriched with additional educational activities such as awareness talks, games, contests and other recycling related activities.
As one of the main project partners, Trienekens' Environment Manager, Dayang Sherrynazra also spoke, adding that the programme saw an increase in the collection of close to 3,000kg of recyclables this year, indicating a positive shift in awareness among the students, teachers and even parents.
"A fixed collection schedule set by the school allowed the recycling programme to develop and become an integral part of the school's system. Consequently, the students' awareness has grown and their habits improving," said Dayang.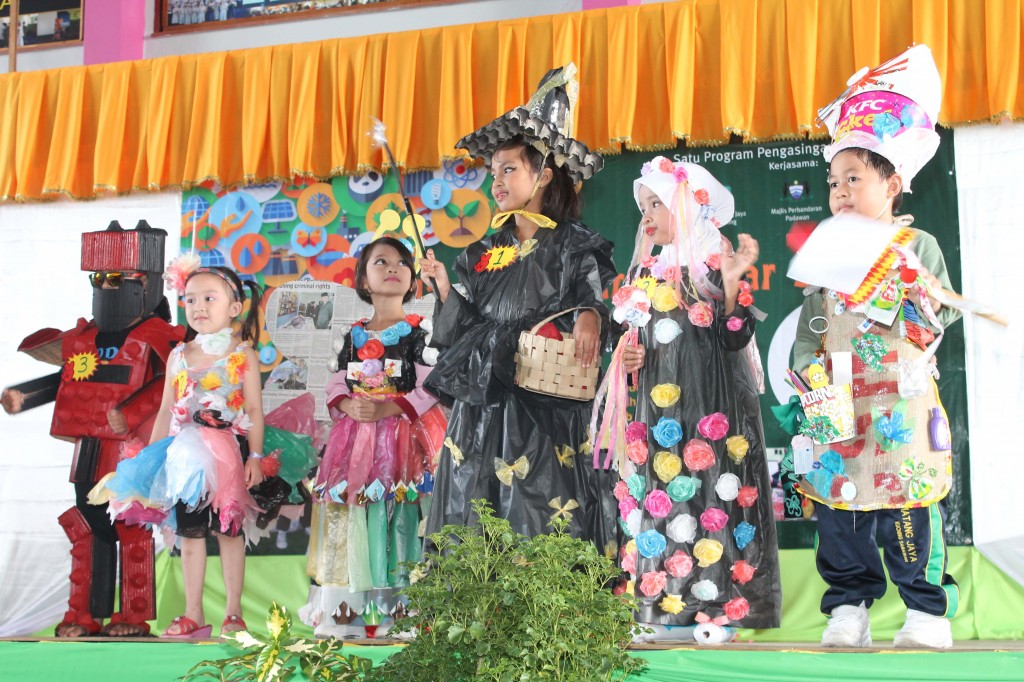 She also congratulated the teachers, students and project's taskforce committee for their commitment throughout the year-long implementation process, adding that its success was due to the basic understanding that recycling is not driven by money but due to increased awareness in preserving the natural resources and importance of maintaining environmental sustainability as well as cleanliness through education.
The half day activities for the students included an "amazing green race", eco-fashion contest, making new-out-of-old competition as well as prize presentations to the winners of the inter-class most collected recyclables contest, coloring and poster design contests.
The event was also graced by Padawan District Education Officer Puan Salina Bujang, School's Headmaster, Sharkawi bin Annuar, Senior Assistant, Naimah bt Hj Matarang, Taskforce Chairman, Cr. Bong Joon Hin, MPP Councillor Tuan Haji Kamaruddin bin TSDS Su'aut, Trienekens CSR Manager, Janet Balong and MPP Senior Public Health Officer, Segar Kallang.