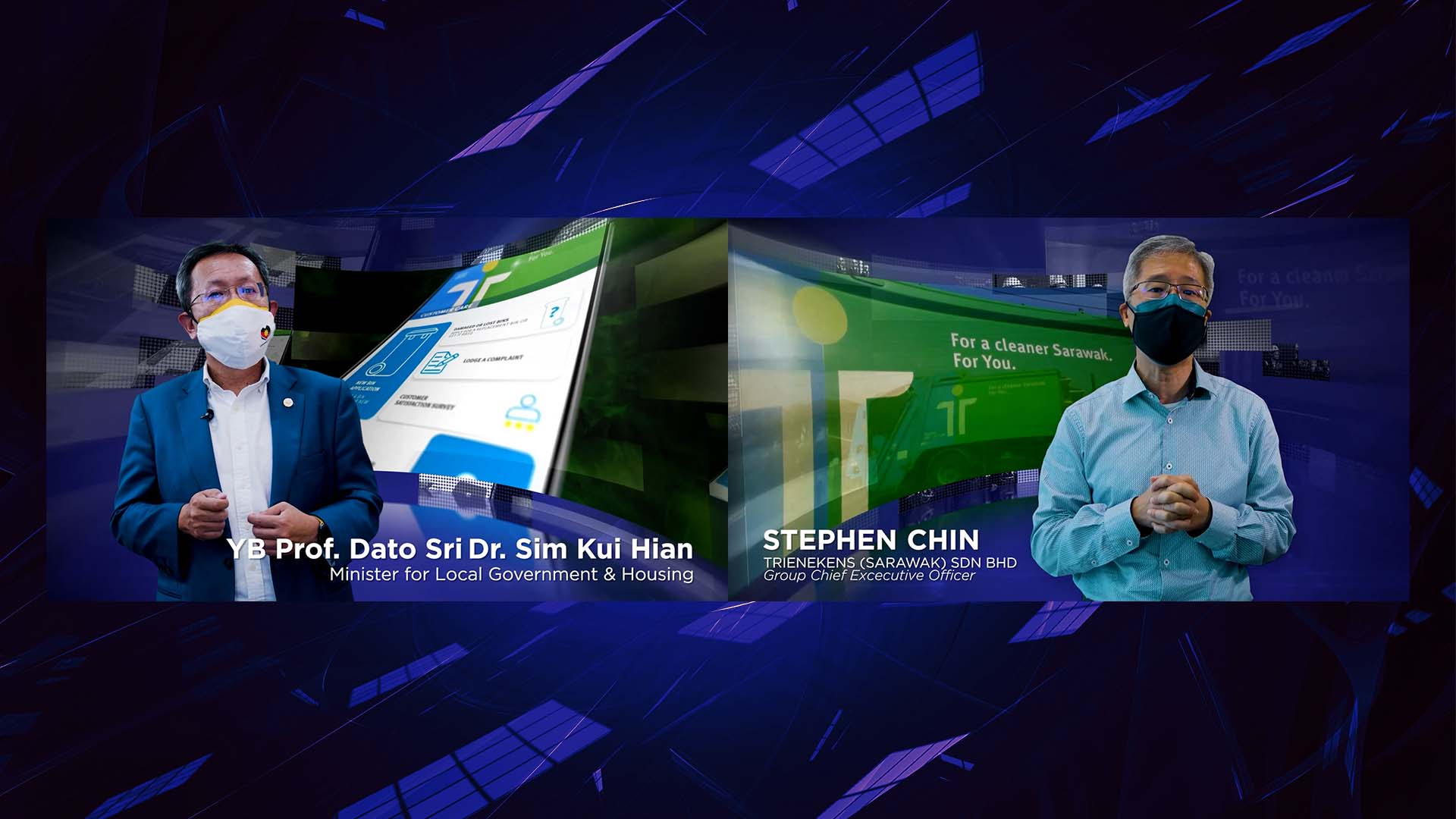 Trienekens (Sarawak) Sdn Bhd today officially launched its SMS Broadcast service to better connect with members of the public and address their waste management needs. The new service is part of the company's strategic innovation plan, which aims to continuously improve waste management services for the public in support of Sarawak's digital and sustainability goals.
Trienekens SMS Broadcast Service is a platform that enables communities within the areas under the jurisdiction of Kuching North City Hall (DBKU), Kuching South City Council (MBKS), Padawan Municipal Council (MPP) and certain areas under Serian District Council (MDS) to be informed and updated on any changes or delays in waste collection services.
The service was officially launched virtually via the company's official Facebook page with featured guest, Minister for Local Government and Housing Sarawak, YB Dato Sri Prof Dr Sim Kui Hian.
Trienekens Group CEO, Stephen Chin who hosted the virtual ceremony, said in his opening address that the Trienekens Group, together with Sarawak Wastes Management Sdn Bhd – a Sarawak Government-linked company; is constantly evolving and advocating the evolution of technology and the culture of change. The company prides itself as a people-centric business that prioritises innovation, quality, customer care, people development, health, safety and environment. He added, "Digital transformation leverages technologies to create value and new services for various stakeholders; innovating and acquiring the capabilities to rapidly adapt to changing circumstances, with the ultimate aim of benefitting everyday lives.
It was with this in mind that we officially launched Trienekens Customer Care mobile app last year and today, it gives us great pleasure to now introduce Trienekens SMS Broadcast Service. We sincerely hope that this new service will become a valuable tool for our local communities, particularly residents of Kuching, to be kept informed and "in the know" of their waste management services."
Chin also thanked everyone who had been working and will continue working with Trienekens in their digital journey and expressed his hope that in the near future, the company would be introducing even more digital services that would benefit the people.
Featured guest, Minister for Local Government and Housing Sarawak, YB Dato Sri Prof Dr Sim Kui Hian congratulated Trienekens on the launching of its SMS Broadcast Service and encouraged Kuching residents to subscribe to the new service by registering through the company's mobile app.
"Last year, Trienekens introduced its waste management services mobile app 'Trienekens Customer Care'. The app is now playing an important role as an additional customer service platform to ease and expedite communication with the public," he said.
He added, "Today, I am happy to officiate the company's introduction of its SMS Broadcast Service. I urge all Kuching residents to sign up for this service by downloading Trienekens Customer Care mobile application or by calling Trienekens Hotline for more assistance.
Kuching residents should continue to use the app as well, to easily submit any feedback regarding Trienekens' waste collection services. In this digital age and with the "new normal", Trienekens app is the more convenient, efficient and environmentally friendly way to address your waste management needs."
To register for the SMS broadcast service, users should download Trienekens Customer Care mobile app on Apple's App Store for iOS and Google's Play Store for Android, and ensure to register their accurate and active mobile phone number as well as full and accurate address. By registering a Trienekens Customer Care app User ID with accurate details, the user's data will automatically be included in the SMS broadcast service.
Existing users of Trienekens Customer Care are advised to update the App in AppStore or PlayStore with their latest details to ensure they are properly registered for the new SMS Broadcast Service.
For enquiries or assistance, call Trienekens' Hotline at 082 612300.