KUCHING: Sarawak Wastes Management Sdn. Bhd. (SWM) and Trienekens (Sarawak) Sdn. Bhd expressed their commitment to continue supporting and contributing towards community development, public awareness and environmental education.  As the State progresses, the companies are able to effectively address evolving waste and environmental issues with in-depth knowledge, technological know-how and best industrial practices to ensure that precious natural resources remain intact and unpolluted.
The companies celebrated their 20th year anniversary of establishment at a special gala dinner graced by the Chief Minister of Sarawak, YAB Datuk Patinggi (Dr) Abang Haji Abdul Rahman Zohari bin Tun Datuk Abang Haji Openg as the Guest of Honour at the Borneo Convention Centre Kuching (BCCK) here on 19 August.
In his welcoming address, SWM Director and Trienekens' Group Chief Executive Officer (CEO) Stephen Chin (詹運傑), said that over the two decades, SWM and Trienekens had developed and progressed exponentially, starting from a municipal waste collector to being a full-fledged service provider.
"The key operating principle of the Integrated Waste Management System has always been to eliminate the negative effects arising from waste to both the environment and society," said Chin. "Our holistic, modern waste management system now includes a digital logistics system, a Level 4 Sanitary Landfill, Secure Landfill, Two Hazardous Waste Incineration Plants, a Leachate Wastewater Treatment Plant, a Waste Oil Distillation Plant and an ISO 17025 Certified Laboratory among others. Trienekens Sarawak is also certified with ISO 9001 for Quality Management, ISO 14001 for Environment, and ISO 45001 for Occupational Safety and Health."
"None of our achievements would have been possible without the strong support of the Sarawak Government, our partners from the City and Municipal Councils, environmental agencies such as the Natural Resources and Environment Board (NREB) Sarawak, Department of Environment (DOE) Sarawak, Atomic Energy Licensing Board (AELB) as well as the Department of Occupational Safety and Health (DOSH), customers, financiers, contractors and the community at large," he added.
2019 marks Trienekens' twentieth year as the leading environmental and waste management company in Sarawak. Besides the corporate gala dinner, the company commemorated the occasion with a series of educational and promotional events since the beginning of 2019 starting with a media appreciation event followed by various inter-schools environmental competitions and several more events will be carried out for its employees and contractors by year end.
"To be in business for 20 years requires having incredible people in an organization. We have about 400 employees – 45% have been with us for more than 10 years, and 99% are Sarawakians.
 I would like to thank our incredible team for their loyalty, hard work and dedication, and I hope that we will continue to stay as motivated as we have been through the last 20 years; continue to care deeply about the community, drive environmental awareness and accelerate innovation, research and development," concluded Chin.
Trienekens (Sarawak) Sdn Bhd is the operating company of Malaysia's first Integrated Waste Management System (IWMS) for the country's largest State, Sarawak. This holistic waste management system effectively addresses the ever-growing complexities of handling large volumes of mixed waste in a combination of several technologies in one installation.
In the 1990s, the Sarawak Government had the foresight to recognize that the exponential socio-economic growth along with Sarawak's progressive development plans would soon necessitate the need for a much more technologically advanced and integrated waste management system than what was then in place. Subsequently in 1998, a Joint Venture Agreement between the Sarawak Government with international waste management expert Trienekens GmbH of Germany led to the formation of Sarawak Wastes Management Sdn Bhd (SWM), with Trienekens (Sarawak) Sdn Bhd being appointed the following year as the operator to develop, implement and operate Sarawak's Integrated Waste Management System (IWMS).
Within Sarawak, Trienekens provides residential, commercial, municipal and industrial waste management services for areas under the jurisdictions of the three local Kuching City Councils i.e. Commission of the City of Kuching North, Kuching South City Council and Padawan Municipal Council, as well as part of the Serian District Council. The Company also provides comprehensive services for hazardous waste throughout East Malaysia (Sarawak, Sabah and the Federal Territory of Labuan).
Trienekens also manages and operates the Kuching Integrated Waste Management Park (KIWMP) – an integrated facility for the treatment and disposal of municipal and hazardous waste. Sitting on a 112 hectare site, components of the Park include a Level IV Sanitary Landfill, a Secure Landfill, a Leachate Wastewater Treatment Plant, two Hazardous Waste Incineration Plants, and a full-service laboratory, among others.
Trienekens (Sarawak) Sdn Bhd's Development Milestones
1999: Trienekens (Sarawak) Sdn Bhd commences business operations.
2000: Introduction of the Integrated Waste Management System (IWMS) in the State, and upgrading of waste management Logistics System (i.e. changing to wheel bins, use of proper waste compactor trucks, re-boundary etc.)
2003: Construction of Kuching Integrated Waste Management Park commences.
2004:
–           Operation of the Kuching Integrated Waste Management Park commences (i.e. Sanitary Landfill, Leachate Wastewater Treatment Plant, Hazardous Waste Incineration Plant and Laboratory).
–           Launch/start of Scheduled Waste services throughout Sarawak, Sabah and WP Labuan.
–           Opening of Trienekens Bintulu Branch.
2006: Gas flare operation commences.
2007: Safe closure of former Matang dumpsite complete.
2013: Recovery of landfill gas as supplementary fuel for Hazardous Waste Incineration Plant.
2014: Second Hazardous Waste Incineration Plant starts operations.
2015: Extended Leachate Wastewater Treatment Plant starts operations.
2018:
–           E-waste partial recovery operation commences.
–           Implementation of "I-Fleet" (live tracking system for all vehicles).
–           Commissioning of new Distillation Plant.
–           ISO 14001 and ISO 45001 certification.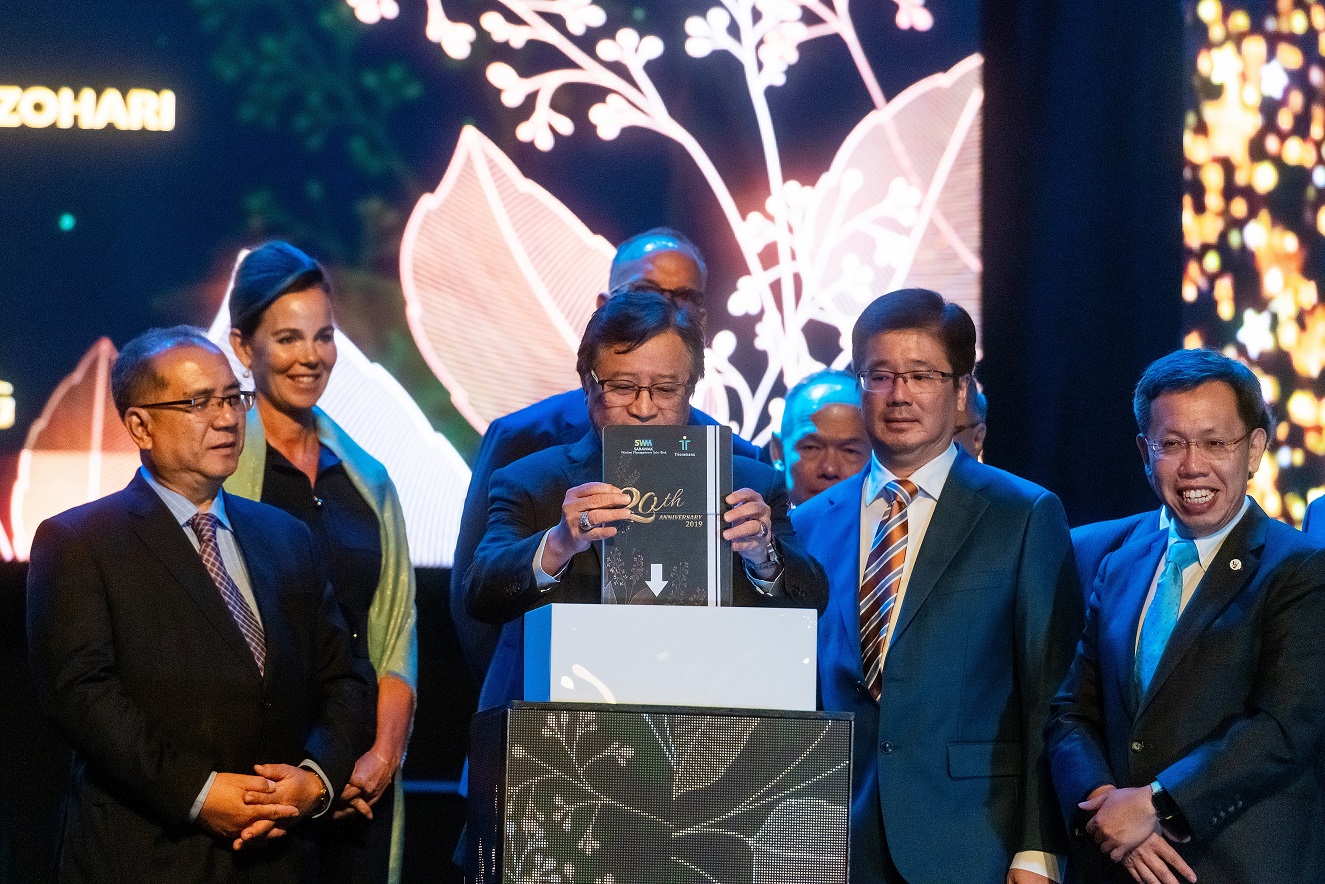 Abang Johari inserts an electronic card into a special slot to launch the anniversary gala dinner, while Jaul (left), Dr Sim (right), Chin (second right) and others look on.