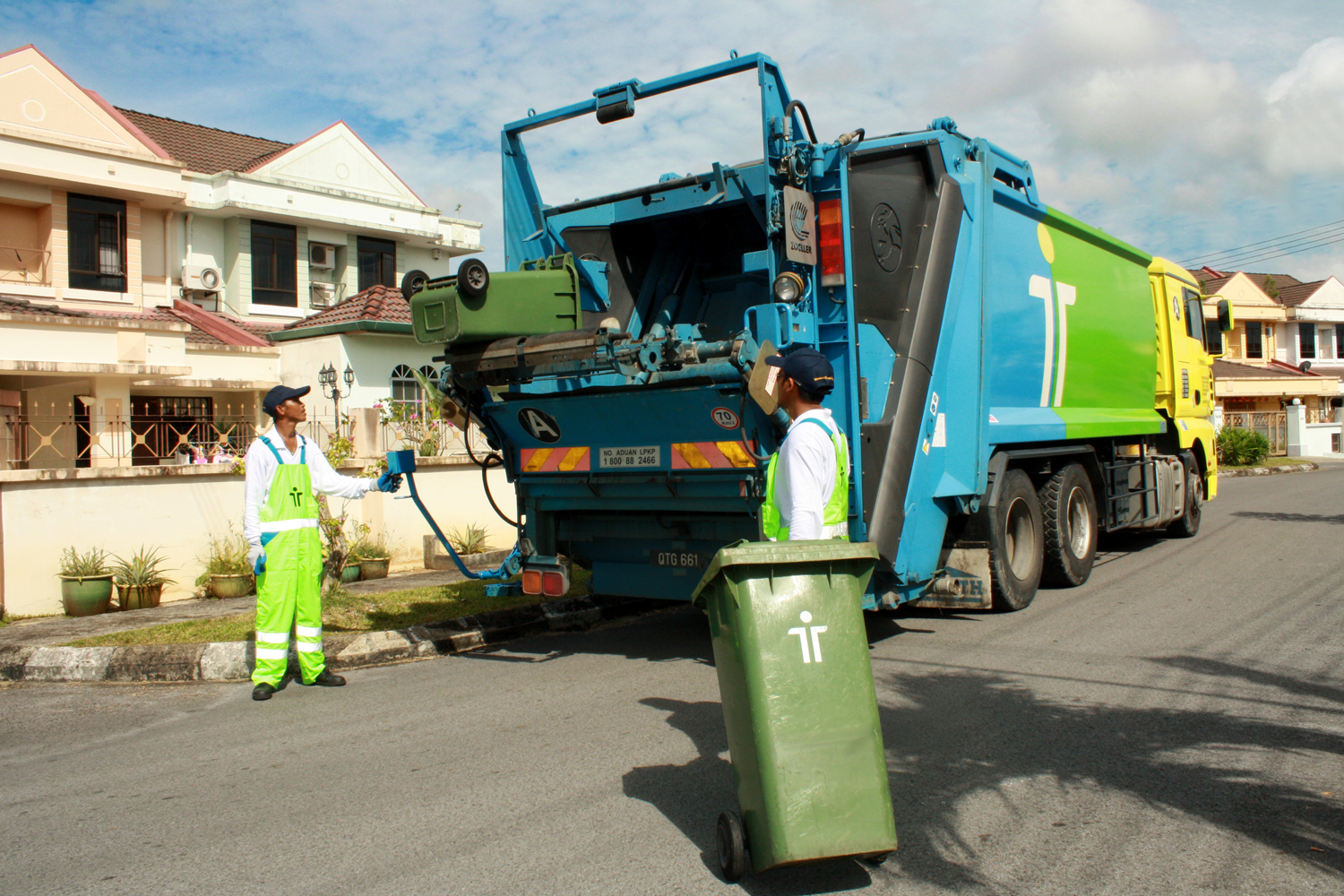 KUCHING: Trienekens (Sarawak) Sdn Bhd today announced that collection services for certain areas with Saturday collection shall be brought forward earlier to 31 May (Friday) in anticipation of Gawai Festival.
Trienekens' Department Manager, Logistics Operations I, Mason Barau informed that their teams will be working on double shift to ensure that the wastes are cleared in time before the Gawai celebrations.
"Wastes volume usually increases nearing to festival period and we would like to remind residents who are celebrating to pack their extra waste properly to prevent spillage," added Mason.
Areas with early waste collection are:
Under Kuching South City Council (MBKS): 
Sekama/Pending/Kenyalang
Jalan Sekama, Lebuh Sekama, Sekama Commercial area, Jalan Tan Sri Datuk William Tan. Jalan Datuk Abang Abdul Rahim, Jalan Sg Periok, Lee Chong Lin, Jalan Kwong Lee Jalan Datuk Marican Salleh, Jalan Wan Abdul Rahman, Bangunan Sultan Iskandar, Pejabat Pos Kenyalang, Part of Jalan Tun Razak, Jalan Chong Ted Tsiung, Jalan Suaidi Haji Arshad,Kenyalang Park, Jalan Sim Kheng Hong, Lorong Sim Kheng Hong, Jalan Chong Kuin Kong, Lorong Chong Kuin Kong 1, 4,6,8,9, Part of Jalan Chawan, Lorong Chawan 4,
Batu Lintang/ Jalan Rock
Jalan Batu Lintang, Jalan College, Jalan Nangka, Iris Garden, Taman Ridgeway, Taman Hwata,  Jalan Kumpang Jalan Rock, Jalan Laksmana Cheng Ho, Lorong Laksmana Cheng Ho 4,6,8.
Tabuan Jaya/Muara Tabuan/Pending
Tabuan Dusun, Jalan Setia Raja, Tabuan Desa, Desa Pines, Part of Lorong Keranji 4F, Lorong Keranji 4F1, 4F2, 4F3, 4F4, 4F5, Sama Jaya Free Industrial Zone, Perumahan Muara Tabuan, Jalan Daya, Jalan Meranti, Jalan Kisar, Jalan Pangkalan, Jalan Dermaga, Borneo 744, Jalan Semangat, Polis Marine Head quaters, Jalan Keluli, Jalan Loji, Jalan Tenaga, Jalan Tenun, Jalan Tekad, Jalan Keruing, Jalan Berlian,Jalan Merbau, Jalan Pelabuhan.
Padungan/Chawan Road
Jalan Abell, Jalan Tabuan, Chung Lin Park, Jalan Padungan, Jalan Tan Sri Dtk William Tan,  Jalan    Song    Thian   Cheok, Jalan    Tun      Razak, Jalan    Chawan,    Lorong Chawan 7,8,9,10,11,12,13,14,15,16,17,18,19,21,  Floridale Condominium, Taman Supreme, Jalan Nyatoh, Jalan Wan Alwi, Lorong Wan Alwi 1,3,5,7, The Imperial Residence. 
Hui Sing/Jalan Sariff Masahaor/Stampin
Jalan Datuk Tawi Sli, Hua Joo Park, Taman Seng Goon, Jalan Seng Goon Garden, LorongTaman Seng Goon 1,2,3,4,5,7,9, Jalan Sherip Masahor, Jalan Tai Shin Jar, Jalan Taman Hui Sing, Merlin Garden, Jalan Lapangan Terbang, Lorong Lapangan Terbang 2, 4, Jalan Stampin Tengah, Lorong Stampin Tengah 1,3,5,7, Richmond Hill, Taman Borneo Heights, The Ryegates 1, Lee Onn Quarters DCA, Stampin Baru Lorong 1,3,5,7,9,11,13,15,17, 19,21,23,25,27,29,31,33,35,37,39,41,43,45, Lorong Song 4, Lorong Song 4B, Lorong Song 6A, Kampung Tabuan Lalang, Tropic Appartment,  Brighton Square, Kampung Tabuan Dayak 7,9,11, 12,14 & 16, Lorong Urat Mata 6, 6A, Jalan Datuk Bandar Mustapha, Jalan Hup Kee, Lorong Hup Kee 10P,10N,22,24, Jalan Benggang, Lorong Stampin Tengah 2,6,8,10,12,14,16, The Ryegates 2, Jalan Ketek, Jalan Golden Farm.
Stutong /Setia Raja
Jalan Song, Lorong Song 3, Lorong Song 3C2,3E, Jalan Seladah, Lorong Seladah 1,3,5, Jalan Kempas, Lorong Kempas 1,6,8, Kempas Heights, Jalan Luis, Taman Phoning. Taman BDC, BDC LorongB,C,C1,C2,C3,D,D2,D3,D4,D5,D6,D7,                      D8,D9,D10,D11,D12,D13, D14, E9, BDC Commercial area, Taman Daya, Lorong Kempas 14, Lorong Durian Burung 1,5,7, Jalan Tun Jugah. Lorong Stutong 2A,2C, Part of Lorong Lapangan Terbang 3,5, Lorong Lapangan Terbang 3A,5A,5E,5H,5M,5Q,5S, Taman Polarwood, BDC Lorong F,F2,F4,F6,F8,F9,F11,G,G1,G3,G5,G7, Taman Satria Jaya, D'Infina Apartment, Echelon Apartment, Jalan Setia Raja, Lorong Setia Raja 12,12A,12B, Taman Stutong Indah, Tabuan Jaya Baru 2, Lorong Stutong 20,20A,20B,20C,20D, Tabuan Park, Lorong Tabuan Park 1,2, Tabuan Tabuan Park Flat.
Under Majlis Perbandaran Padawan (MPP)
Batu 7/Jalan Semaba
Jalan Semeba, Lorong 1, 1/1, 1/2, 3A,3B, 3C, 3D,3E, 3F, 3H, 2b3, 2b2, 2b1, 2b, 2a, 4,Desa Paul, Taman Sarmax, Taman STC,  Komplex Perumahan Jabatan Penjara, Taman Cuaca, Lee Ling Garden, Flat Batu 6, Taman Tapang Emas, Taman Kalien, Chuan Kiew Garden, Kampung Temedak, Pearl Garden
Batu Kawa Area
Jalan Ensing Timur, Stapok Utara, Taman Stapok, Metropark, Jalan Stapok Selatan, Blessed Garden 3, Desa Wira Lorong 17, 17A, 19A, 19B, Kampung Sinar Budi, Taman Desa Wira, Taman Sri Borneo, Kampung Sudat, Jalan Dogan Lorong 12, Taman Wawasan, Lorong Arang 13, Jalan Ketitir, RPR Batu Kawa  Lorong 20,21,22,23,24,25,26,27,28, 28a1, 28a2, 28a3, 28a4,28a5,28a6,28a7,28a9, Stapok Selatan Lorong 11, Taman Cahaya Permai, RPR Landeh Lama, Dios Avenue, Taman Hillsdale, Taman Sri Landeh, Fuyi Garden, Taman Paramount, Jalan Cinle Landeh, Landeh Height, Taman Indah landeh, Kuching City Mall Express Way (Housing), RPR Batu Kawa Lorong 1 until Lorong 18.
Batu 15, Semenggok, Kuap Dayak
Kampung Seratau, Kampung Permas, Kampung Pengiran, Kampung Sidanu, Taman Sentuh, Kampung. Jawa Batu 12, RRP Batu 12, Rumah Kanak-kanak Batu 12, Taman Semenggok, Taman Poh Kwong, Taman Stella, Taman Green Town, Taman Hui Ling, Skim Penempatan Baru Kampung. Jawa, Kampung Kuap Dayak, Wassion Avenue, Flat Muhibbah Batu 13
Under Majlis Daerah Serian (MDS):
Kampung Beratok, Kampung Tapah, Taman Harmoni, Tapah Resident, Kampung Maang, Kampung Sungai Riset, Kampung Sikuduk, Kampung Plaman Payang, Kampung Chupak.
The collection schedule for other residential areas other than these locations shall remain as usual. Residents are also reminded to push out their wheel bins earlier to prevent missed collection.
Public is reminded to maintain the cleanliness of their neighbourhood by ensuring that additional wastes that cannot fit into wheel bins are to be sealed inside garbage bags, tied securely next to the bins. Residents are also prompted to keep their bins closed at all times to prevent rainwater inside their bins and to drain out any form of liquid before discarding the waste to avoid an excessive amount of leachate.
For more information, the public is advised to call Trienekens' Hotline at 082-612300.
End of Release
For information, please contact:
Corporate Communications Department
082-610700